Our Spectacular Murray River, Mallee and Outback Gateway
Discover Murray River Travel brings you Australia's only source to sea travel experience with a 100% focus and specialty on Australia's great river.
We understand the essence of the Murray's secrets, its soul and how to get the best Murray River holiday, no matter what your budget!
Discover Murray River History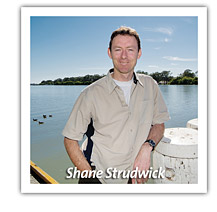 Shane Strudwick is creator of Discover Murray River with the Murray River website beginning life in 1997. Our team is passionate about the Murray River and the Murray-Darling Basin. We also understand that travel and tourism boundaries are not political, they are defined by the experience. In the development of Discover Murray River, Shane and his team have travelled the river's banks over many years and we understand how to share with you the best Murray River holiday.
Shane was also Chair of the proposed Murray River Tri-State National Landscapes initiative. This is working closely with regional tourism, regional development boards, local council, operators, Parks, Tourism Australia and local indigenous cultures to make the Murray region an international brand and destination. His level of knowledge of the river from source to sea makes him the go-to person for many resources and information…now he wants to bring you the secret spots through travel.

Discover Murray has been created without government support. This ensures we're free of influence and act with integrity and neutrality for our advertisers, visitors and researchers. Discover Murray consistently receives positive comments and brings great value to all users. Our persistence and constant innovation is allowing the vision of a unified Murray River through tourism possible. We're aiming to bring powerful value and integrity to all river communities and the Mallee.
Why the Murray?
We love the Murray! …and want to see it live a long, health life for all to enjoy. It is Australia's Great River Experience. While working with clients in Mannum, Mildura and Echuca we noticed a lack of good resources in one area for the Murray nationally which we felt didn't positively reflect well on the region both domestically and internationally. Using our experience this allowed us to capitalise on an significant weakness and opportunity to promote the entire river effectively with innovation and quality as the foundation for development.
Discover Murray's commitment:
A professional and innovative website and promotional tools for the world to learn about, explore and Discover the Murray River
Create impartial and objective content while showcasing the individual uniqueness of each business, town, region and state
Create trails that visitors can explore while linking the brand online for the best experience of a borderless Murray
Educate, promote and market the Murray as an outstanding Australian River Experience
Provide a trusted destination for information and content and bookable holiday
Please contact us anytime. Thanks and I hope you can join us on a great Murray River holiday!
Regards, Shane Strudwick and Discover Murray River Travel Team